#6630507 HHS patent on Medical Marijuana raises questions of hypocrisy for many including Willie Nelson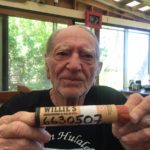 Patent No. 6,630,507 was granted to the U.S. Department of Health and Human Services (HHS) in 2003. The recent social media flurry has consisted of posts varying in allegations and accuracy — some have claimed that the government patented the marijuana plant in its entirety. But the overall intent is one that is symbolic in nature, said Sam Mendez, an intellectual property and public policy lawyer who serves as the executive director of the University of Washington's Cannabis Law & Policy Project.
"Naturally, it shows that there is a certain amount of hypocrisy that there is 'no accepted medical use' for cannabis according to federal law," Mendez said. "And yet here you have the very same government owning a patent for, ostensibly a medical use for marijuana.
"It's certainly hypocritical, but there's no laws against doing so.